Using SolidWorks RX to perform system maintenance
Our most common tech support questions usually involve some form of system slow down or frequent crashes. Many of these issues can be avoided with proper system maintenance. Something many people overlook is the fact that the SolidWorks RX tool has several functions for maintaining your system built in.
To start SolidWorks RX go to Start, SolidWorks (Version), SolidWorks Tools, SolidWorks RX

When SolidWorks RX launches you will notice the tabs across the top with the different functions available, to begin system maintenance choose the System Maintenance tab as shown in the below screen shot.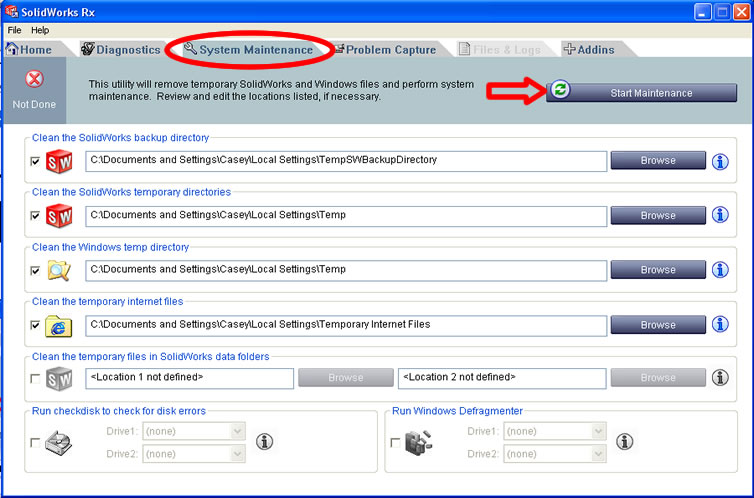 This tool will clean the temporary and backup SolidWorks directories as well as the systems Windows temp directory and the temporary internet files. If for some reason you do not wish the tool to clean one of these directories simply uncheck the box beside that function. You also have the option to run a Checkdisk and Windows Defragmenter tool after completing the clean up. We recommend running these tools as part of your Task Scheduler routine maintenance, so we leave these boxes unchecked. When you click Start Maintenance the following dialog box will appear.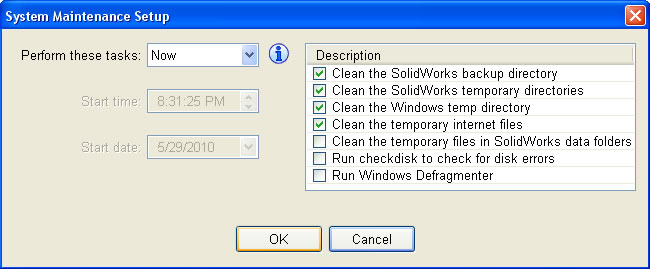 Here you can choose if you would like to run the steps now or wait until later. If you are preparing to leave for the day you can set this to run after you leave so that your system will be available while you are still working. Click ok and the SolidWorks RX tool will begin the system clean up steps you have chosen. Upon completion this dialog will appear.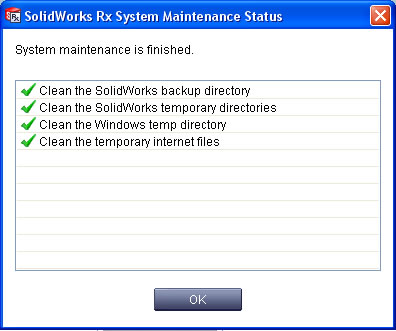 This completes your system maintenance using SolidWorks RX.