Using SolidWorks RX to record an issue
SolidWorks RX is a tool used to record and capture data that can help SolidWorks support technicians diagnose issues that you may be having and provide a faster solution. While this is a very commonly used tool we frequently get questions regarding where it is located and how to use it.
To start SolidWorks RX go to Start, SolidWorks (Version), SolidWorks Tools, SolidWorks RX

When SolidWorks RX launches you will notice the tabs across the top with the different functions available, to record your problem click Problem Capture. The Problem Capture screen has 3 sections as shown in the below screen shot.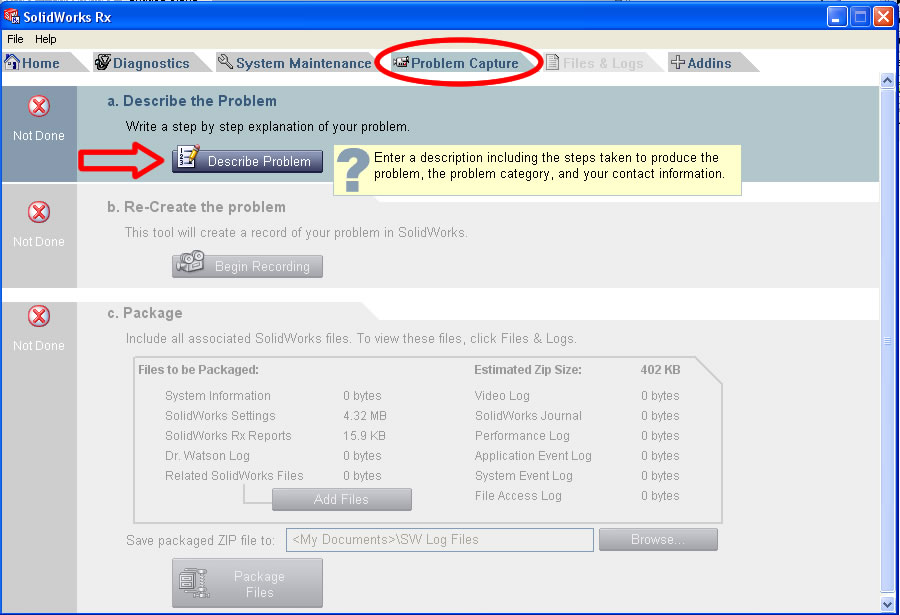 The first section to complete is a. Describe the Problem, when you click this button a dialog box will appear for you to fill out information about the issue, including how it affects your work and company. After you have completed the information and contact fields the next section b. Re-Create the problem will be available. When you start this section the following dialog appears.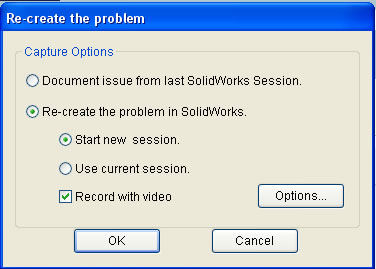 Here you can choose what session you are sending information from. If you are repeating an issue to display how it happens you will want to use either a new session or the current session if you have SolidWorks launched. If you have just experienced a crash and need to send in the RX file to diagnose the crash choose the first option Document issue from last SolidWorks Session. If you are documenting the previous session you can skip the next step.
When Re-creating an issue SolidWorks will become active when you click ok. SolidWorks RX is recording in the background, so follow the steps that cause your issue, then close SolidWorks when you are done. SolidWorks RX will move to the next section c. Package.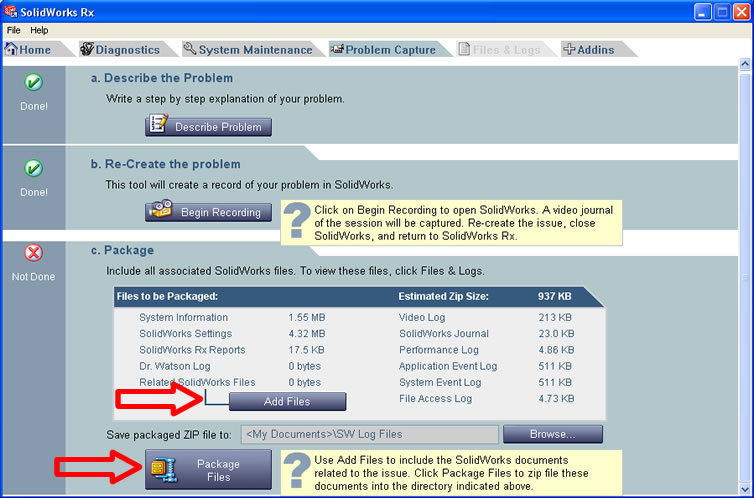 This is the final step, here you can add the files you were working on, plus any other documentation files by clicking on the Add Files button highlighted above. When you have everything ready click Package Files to finish the RX and save everything into a Zip file ready to be sent for tech support. Be sure to look at the file size shown in the blue bar beside Estimated Zip Size:, if you are using TMC tech support the max size on email is 20mb, this varies by company. If the file is larger than 20mb contact us for our FTP information and we will have you upload it to our site.