When the K4200 first debuted the testing showed it was a pretty significant step forward.  Now that NVIDIA has released the all new m4000 card as it's replacement it is time to see how they stack up.
The M4000 uses NVIDIA's new Maxwell GPU architecture GM204GL to replace the K4200's Kepler based GK104GL. With 8 GB of GDDR5 and 4 DisplayPorts supporting full 4k monitor resolution there is no shortage of monitor and configuration options.  In addition to doubling the on-board memory the CUDA core count jumps to 1,664 from the K4200's 1,344 and memory bandwidth rises from 173 GB/S to 192 GB/s.  Even with the large step up in GPU power this card increased the maximum power consumption by only 15 W compared to the Quadro K4200 due to the more efficient architecture.
To get a true comparison both cards were tested in the same workstation using an Intel Xeon E3-1270 v5 CPU, 32 GB of ECC RAM and a Samsung SSD.
The testing format follows the same structure as previous tests combining the usual benchmarks such as SPECviewperf, Cinebench, and PassMark along with real world CAD application and stability testing.  For full details of the testing methodology and why each section is used please see the PC Hardware Testing Methodology article.
So what does all of this translate to?  See the chart below for the performance numbers, as nice as all the new tech is this is what we are all interested in!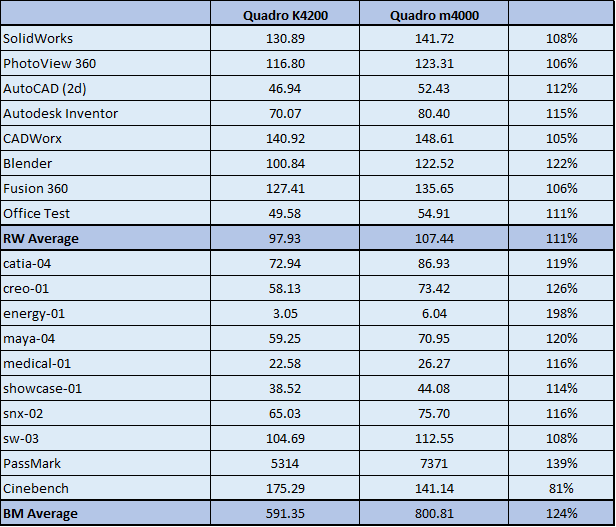 Conclusion
As you can see from the performance numbers above the m4000 is overall a great card and a true advance over the last generation.  When it comes to the real world test for CAD applications though there isn't as much of a gain.  This can be contributed to limitations with the software's ability to take advantage of it combined with the ability of the PC itself to feed and receive the data.  Similar results are found with high CPU counts and extreme overclocking.  There are always weak links and the advances in technology aren't always in sync with each other.  Barely over two years ago the graphics card would always be the first and best "bang for the buck" upgrade for a CAD or Engineers workstation but the new generations of cards have exceeded the most common software's capability to utilize it.  Now it seems for most applications a mid-range card will handle everything the CAD programs can pass to it and still not even hit 100% utilization.